Updated by Eric
Introduction
1099s can be E-Filed with Payroll System's E-File add-on.
The initial release of the CFS "W2/1099 E-File Add-On" will be in mid-December. The IRS FIRE System will not be in operation for 1099 e-filing until about January 8th. This guide will walk you through E-Filing 1099's.
An instructional video on this topic can be viewed here.
1099 E-Filing Checklist
Have you created an account on the IRS FIRE System?
Have you applied for and received your TCC Code?* (Form 4419, now e-filed via the Fire System)
Have you purchased the CFS W2/1099 program and the W2/1099 E-File add-on?
Have you prepared the 1099's that you desire to e-file?
If you do not already have your TCC, it can be a lengthy application process. See
Applying for a TCC
.
Opening the 1099 E-File Module
Upon opening Payroll System, you will see the following window: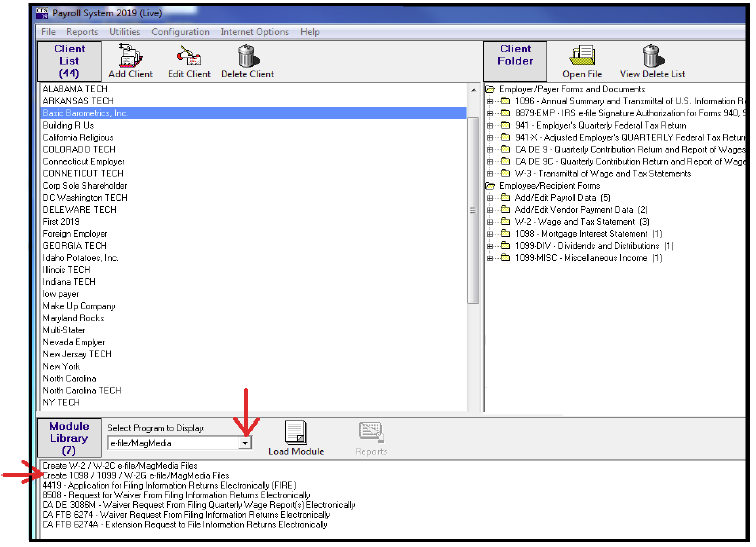 As shown by arrows above, first Select "e-file/MagMedia" from the drop down menu. Then open: "Create 1098/1099/W-2G e-file/MagMedia Files" Module (click to select, then click "Load Module" Icon).
This is what the Module will look like once opened. Note the tabs for Steps 1 through Step 6 across the top.  Simply "Click" on a tab to access a specific step.  Begin with "Step 1 – Transmitter Data":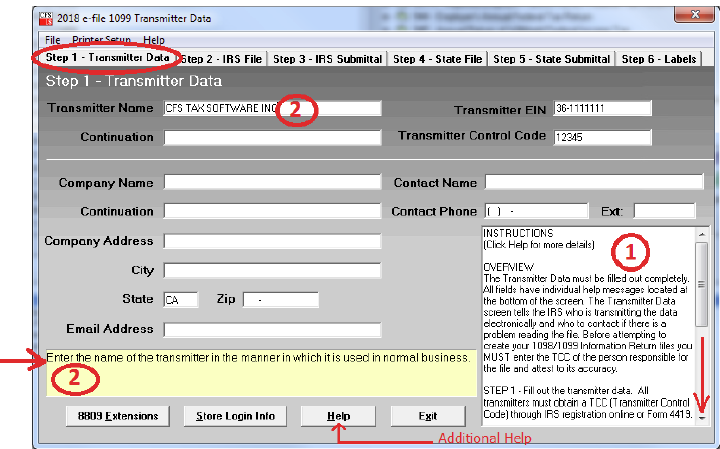 Step 1: Transmitter Data
Fill in completely with your Practitioner/Transmitter info.
If you are a Practitioner transmitting for one or more companies, the "Company" Name and information should be yours (the company that owns the TCC, not the company(s) you're transmitting for).
Note the "Button" options at bottom.

The "8809 Extensions" CANNOT be used to e-file an extension for a 1099-MISC with Box 7 income. Such extensions are not automatic and must be made using paper Form 8809, which can be found under "General Form/Utilities" in the Module Library.
The "Store Login info" button can be used to store login information for the FIRE System and state sites.

Once all fields are properly filled out, move on to Step 2.
Step 2: IRS File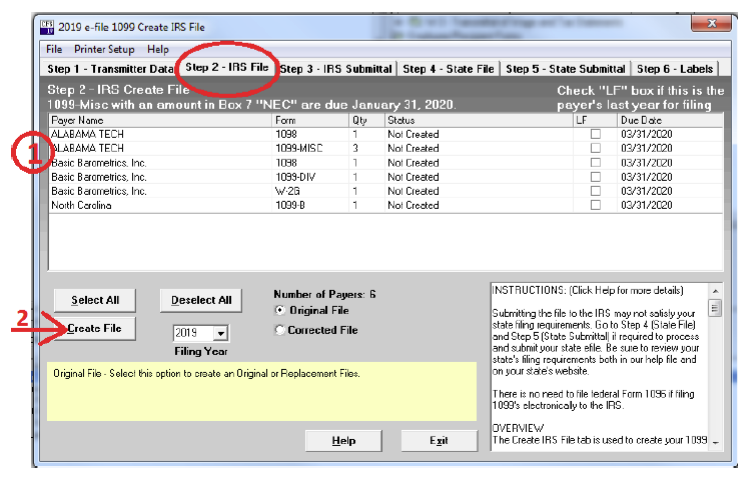 "Payers" for which you have prepared 1099's are listed, along with Form type(s), Quantity, and "Status". "Not Created" is the expected status--because you haven't yet "created" the E-File upload file.

If a Payer is not listed, exit the module, and check to be sure that you have created and saved 1099(s) for that Payer.

Select the Payer(s)/Form types(s) you wish to prepare for FIRE System Upload.

A Payer may be listed more than once – Each form type for a Payer will be on a separate line (e.g. if a Payer is reporting rent income to a recipient on 1099-MISC, and Non-Employee compensation to other recipient(s) on 1099-NEC, there should be 2 lines for that Payer.

It is recommended that 1099-MISC NEC forms be filed separately--either singly or with several Payers together--because of their January 31st due date.

In this example, only 1099-MISC NEC Payers/Form type have been selected. With your desired Payer(s) selected, click on the "Create File" button:

A dialog box will appear. Click "Save" for the default file name and location (recommended).

The path and file name are also copied to the clipboard, so that you can later paste them into the appropriate field on the FIRE System website (this will be illustrated later in the instructions).
If the file is successfully created, a "File Created" message will appear.

Click "OK" to close the message above.

Successfully "Created" (and saved) Payers/Form types will no longer appear in Step 2.

If "Create File" was unsuccessful, a "Data Warnings" message (illustrated below) will show you a list of problems.

You will need to exit this module, and correct the form files indicated in the Data Warning. Once all problems have been corrected, go back into the "Create 1098/1099/W-2G e-file/MagMedia Files" module (Step 2), and try to create the file again.

The Data Warning Payer(s)/Form(s) status In Step 2 will still indicate: "Not Created Data Errors" (in red). However, if you have corrected all of the problems, the file should be created this time. (If it isn't, you will receive another "Data Warnings" message listing problems that still need to be corrected.)

You may now proceed to Step 3.
Step 3: IRS Submittal
In Step 3 you will CONNECT to the IRS FIRE System website to upload the file you have just created.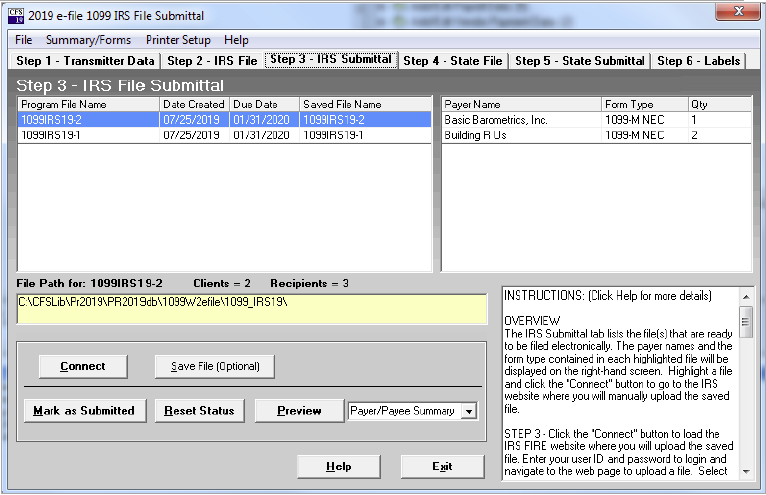 In the example above, there are two files: one that was previously created, and the one we just created in Step 2 (highlighted in blue). Note: the blue highlighting indicates we have selected this file to upload to the IRS FIRE System website.
Note that both files have similar names. However:
The one that was created earlier ends in "-1"
The one that was just created ends in "-2"
If you create additional files, they will continue to be numbered sequentially.
The box on the right lists the Payer's name(s), Form Type(s), and Quantity of forms included in the highlighted file.
Please make note of the "Saved File Name" of your highlighted file (including any numerical ending). Also make note of your "File path/location" as explained below.
You will reference these while on the FIRE System website.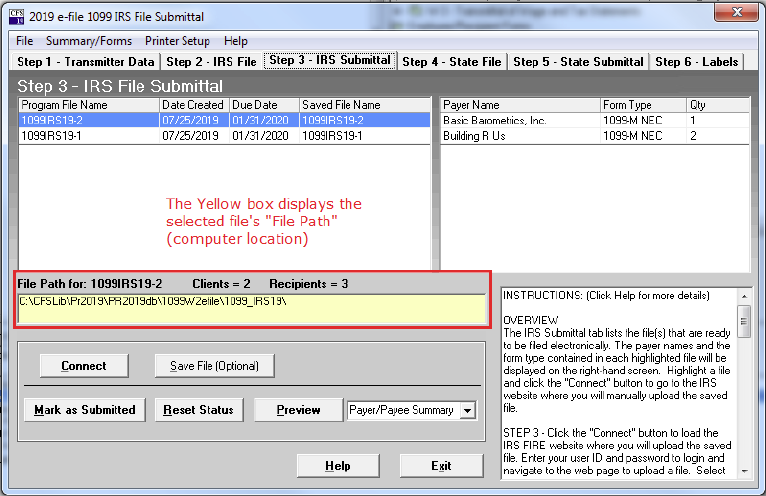 The yellow box indicates the "file path" (the file's location on your computer). Some users like to "Navigate" to their file location when on the FIRE website. However, the file path is also copied to your clipboard; you can use "Ctrl + V" to paste it into the appropriate field on the FIRE website.
If you copy something else before uploading your file to the FIRE website (for instance, your FIRE System password), it will replace the file path on your clipboard. You can copy the file path again by clicking once anywhere on the selected file (click just once anywhere on the blue highlight). Note: You won't see anything happen, but the Module will automatically recopy your file's location (File Name and Path) onto the Windows clipboard.
"Save File (Optional)": Some users save their file again in Step 3 (perhaps to rename). In this case, the program will automatically copy the newly saved File Name and Path to the Windows clipboard. All this will become clearer as we apply these concepts in the FIRE System (Part Two) instructions.
With your newly "created" file highlighted in blue, click on the "Connect" button to go directly to the FIRE System Login.

Click OK.

After clicking OK, you will be taken directly to the FIRE System Login. See Navigating the IRS File System Website to continue.
In Step 3 – IRS Submittal, you can Preview and Print the "Payer/Payee Summary" and other reports.
Step 4: State File
State procedure in Step 4 is quite similar to the Step 2: IRS File.
Most users will complete the required IRS FIRE System upload(s), before moving on to State 1099's.
Step 5: State Submittal
State procedure in Step 5 is quite similar to the Step 3: IRS Submittal.