E-File Format Error W2 and 1099
E-File Format Error W2 and 1099
Updated by Suzette Ciplickas
Some agencies (BSO and certain states) want the file that is uploaded to be named with a .txt at the end of the filename. Make sure the saved file name has a .txt before submitting.
How to fix Error with file format.
Check to see if your computer is set to show file extensions.
Windows 10:
Open File Explorer; if you do not have an icon for this in the task bar; click Start, click Windows System, and then File Explorer.
Click the View tab in File Explorer.
Click the box next to File name extensions to see file extensions.
For Windows Vista, Windows 7, and Windows Server 2008
Start Windows Explorer, you can do this by opening up any folder.
Click Organize.
Click Folder and search options.
Click the View tab.
Scroll down until you notice Hide extensions for known file types, un-check this line by clicking the check box. ...
Click OK.

Check in the file submission tab of the e-file add-on that the saved filename has a ".txt" at the end of the filename.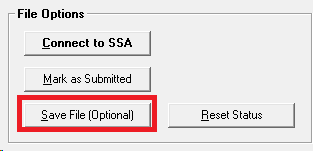 If the filename doesn't have a ".txt" extension click on the "Save File (Optional)" to save the file.