Submit a Communications Test File
Submit a Communications Test File
Updated by Eric
After your E-file Application has been processed, the IRS will assign you an EFIN and Transmitter ETIN. The ETIN is initially only authorized for testing. In order to have the ETIN authorized for submitting production files, you must submit a Communications Test File.
Submitting the File
To submit a Communications Test File:
Open the E-File Federal Employment Tax Returns module.

Enter your EFIN and ETIN.

Other information should be imported from your Firm Information. Click Communications Test File to create the Test File.

A pop-up message shows the path\filename of the Test File on your hard drive. The path\filename is also copied to the clipboard, so that it can be pasted into the appropriate field on the IRS MeF site. Click OK.

Click Log In to MeF to open your browser to the login page of the MeF site.

Fill in your username and password, and click Login.

At the MeF home page, click Transmit Test File.

When you get to the Submit Test File page, click Browse, paste the path\filename into the file name box using CTRL+V, then click Open. The filename should now appear next to the Browse button.
Click Submit to submit the file. A status window will appear to inform you when the file has uploaded. You will then receive a Submission Receipt, which you should print for your records.
Retrieving Test Acknowledgement
The next step is to click Retrieve Test Acknowledgements to download an Acknowledgement File. The file will tell you whether your test has been accepted or rejected.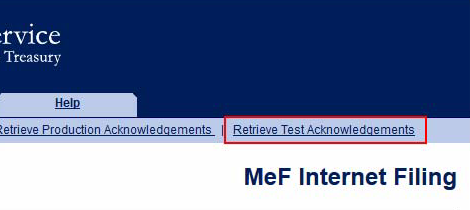 For more information on using the MeF website, including links to IRS tutorials and publications, see the Help file.
Viewing the Acknowledgement File
Click View Saved Ack File to view the downloaded Acknowledgement file.

Browse to the file location. It will probably be in your Downloads folder. The filename will be AcknowledgementFile.zip.

Double-click the file, or select it and click Open. The "<AcceptanceStatusTxt>" line indicates whether the file was accepted.

If your Test File is accepted, contact the IRS e-Help desk at 1-866-255-0654 to complete the process of changing your status from Test to Production.