W-2 E-Filing Step 3: SSA Submittal
W-2 E-Filing Step 3: SSA Submittal
Updated by Eric
For help on other parts of the W2 e-filing module, see W-2 E-filing Module Overview.
This tab lists the file(s) that are ready to be filed electronically. The employer names and the form type contained in each highlighted file will be displayed on the right-hand screen.
If there is more than one file, select the one you wish to submit. The yellow field displays the path to the file.

Note: When creating a file the program will open a "Save File Dialog Box", if you click Cancel while saving the file the file will still be created and will show on Step 3 (Feds) or Step 5 (State).  You can go to Step 3 or Step 5 highlight the file and "Reset" to move it back to the Create File Tab.

Click Connect to SSA.

The File Submittal dialog appears. Click OK. Your browser will open to the BSO website.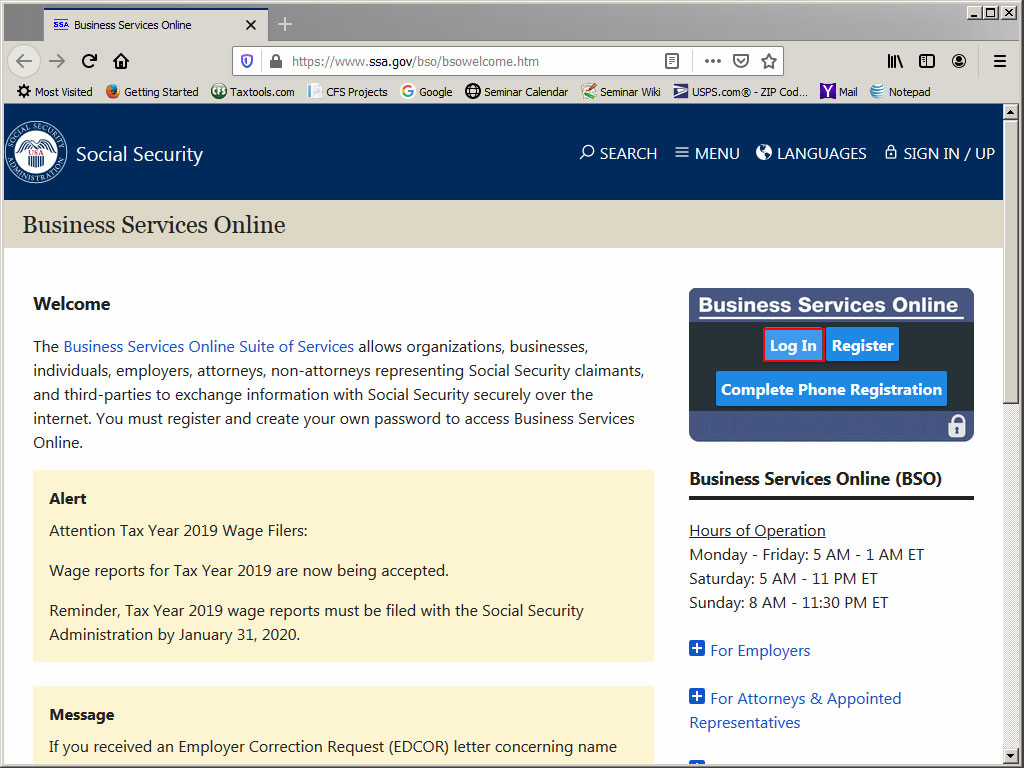 Your browser will open to the BSO website. Click Log In and follow the instructions to upload the file.Be sure to complete the UPLOAD of your file, and PRINT the 'Success page'—which will include proof of filing date & Wage File Identifier (WFID). 
If instead your file fails BSO's preliminary check, you will see an ERROR page, which you should immediately PRINT (or save) for proof of filing attempt, as well as their description(s) of errors to fix. For information on fixing specific errors, refer to SSA's Online Error Reference Material at https://www.ssa.gov/employer/onlineerror.htm.)
Click Mark as Submitted to mark the file as submitted.
If the file was not successfully uploaded, we recommend you Previewing and Printing a Report Summary (in Step 3 of W-2 E-filing module), to keep as a record (along with your printed copy of the BSO Error Page and details), before you RESET the file:Click Reset Status to move the file from Step 3 back to Step 2.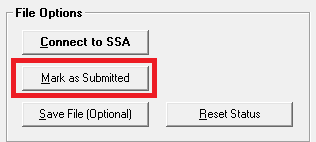 Generally, if a file passed BSO's Preliminary Check and was successfully uploaded to BSO, users should NOT click Reset Status to reset file.  Only if errors were detected by Accuwage when the file was tested, or when uploading the file did not pass the preliminary check (but instead got an ERROR Page), or, the file was later was rejected by SSA/BSO (with Resubmission Notice), should a previously submitted file be Reset.  Do NOT reset a file to make a correction to a W-2, or to file an original with omitted employees.
Report Options

PREVIEW BUTTON - Select a file by highlighting it, and choose the Preview button. The Preview screen will display the contents of the file on screen. This screen is for your information only. You can print the report in the Preview mode.

Print Payer Summary - Select this option to preview a list of employers contained in the file. This printout can be kept with a backup disk for reference and safekeeping.

Print Payer and Payee Summary - Select this option to print a list of employers and employees contained in the file. This printout can be kept with a backup disk for reference and safekeeping.
Submitting files to the BSO may not fulfill your state's filing requirements. Click Step 4 - State File. See Step 4: Creating State Files.
Check back on the BSO website for the status of the file submittal until you are sure there were no problems. When the File Status is "Complete", that indicates its full electronic acceptance by BSO.

It can take from one to six weeks for BSO to complete the electronic processing.