Introduction to TaxTools WorkShop
Introduction to TaxTools WorkShop
Updated by Eric
Download
What is TaxTools WorkShop?
You might be familiar with our programs' interface—your clients and their saved files are listed on the top half of the screen, and the Module Library is on the bottom half of the screen and contains the Modules each program is capable of launching.
If you use multiple CFS programs, you probably noticed that they look almost identical except for the list of Modules in the Module Library. You probably also noticed that a copy of your client list must be migrated to each program, and each year.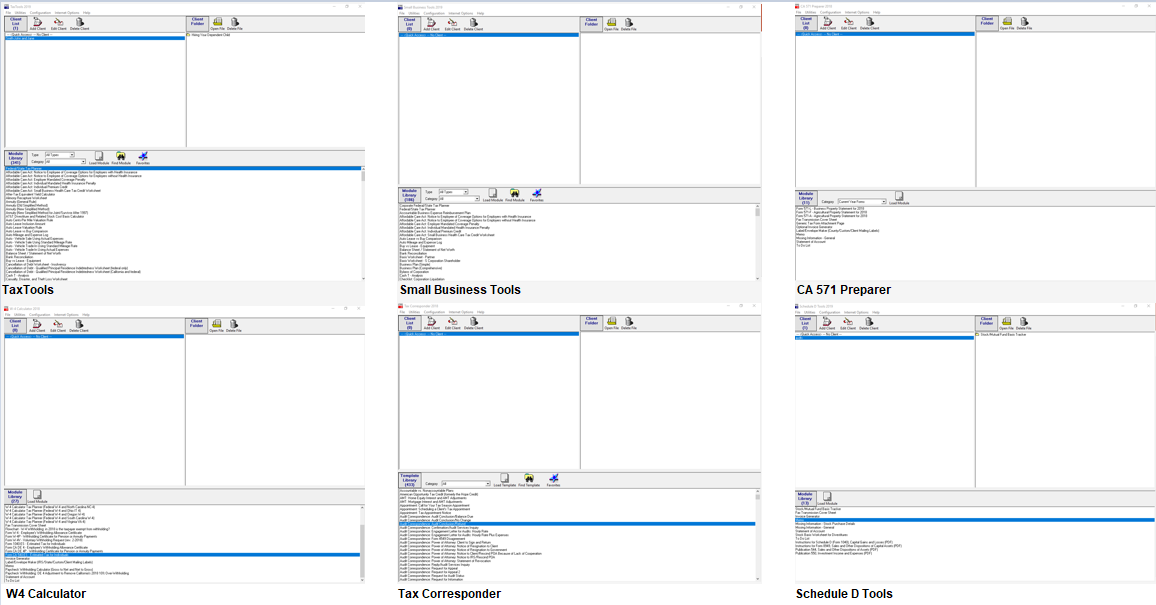 If you don't use multiple CFS programs, you might not even be aware we sell over a dozen different ones, each with a unique task. Above are six titles that show how similar each program looks.
TaxTools WorkShop is a free program that unites similar CFS programs into a single, unified program. This reduces the maintenance tasks you have to perform, like copying clients to each program and running installers on workstations, and frees you up so you can get right to work.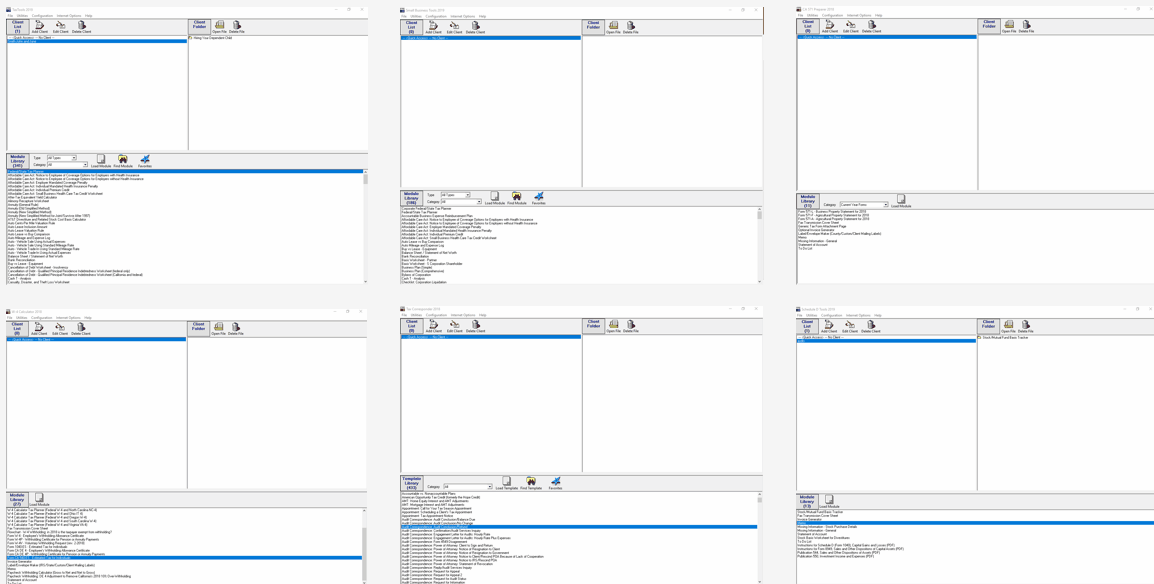 Here are some of the time-savers that unifying the programs allows for:
Single, unified client list. No more migrating copies of client lists each year between multiple programs. If a client's address changes, it only needs to be changed in one client list instead of in each of your CFS programs. See the work you've done for a client all at once instead of having to look in several places. Import your clients from other CFS software just once and then never do it again.
One installation instead of many. A firm that purchases three of our programs would have to do three initial installations plus a number of update installations each year, per computer. TaxTools WorkShop requires a fraction of the maintenance.
Spend less time switching between programs. Access hundreds of CFS modules from one place.
No more typing in license codes. TaxTools WorkShop does not require the long 10-character license codes to know which products you are licensed for. It just needs your Customer ID, which doesn't change from year-to-year or when you purchase something like license codes do.
Stay current. The technology used in TaxTools WorkShop allows us to keep the program updated with the latest forms, worksheets, flowcharts, and calculators before they become available in standalone programs, and without having users perform installations.
See what you're missing out on. Since TaxTools WorkShop contains the modules from multiple CFS products, you will be able to see modules listed in your program you might not have even known existed.
Additional Features
While TaxTools WorkShop shares the same interface as our other programs, it has some features that can't be found in the standalone CFS programs.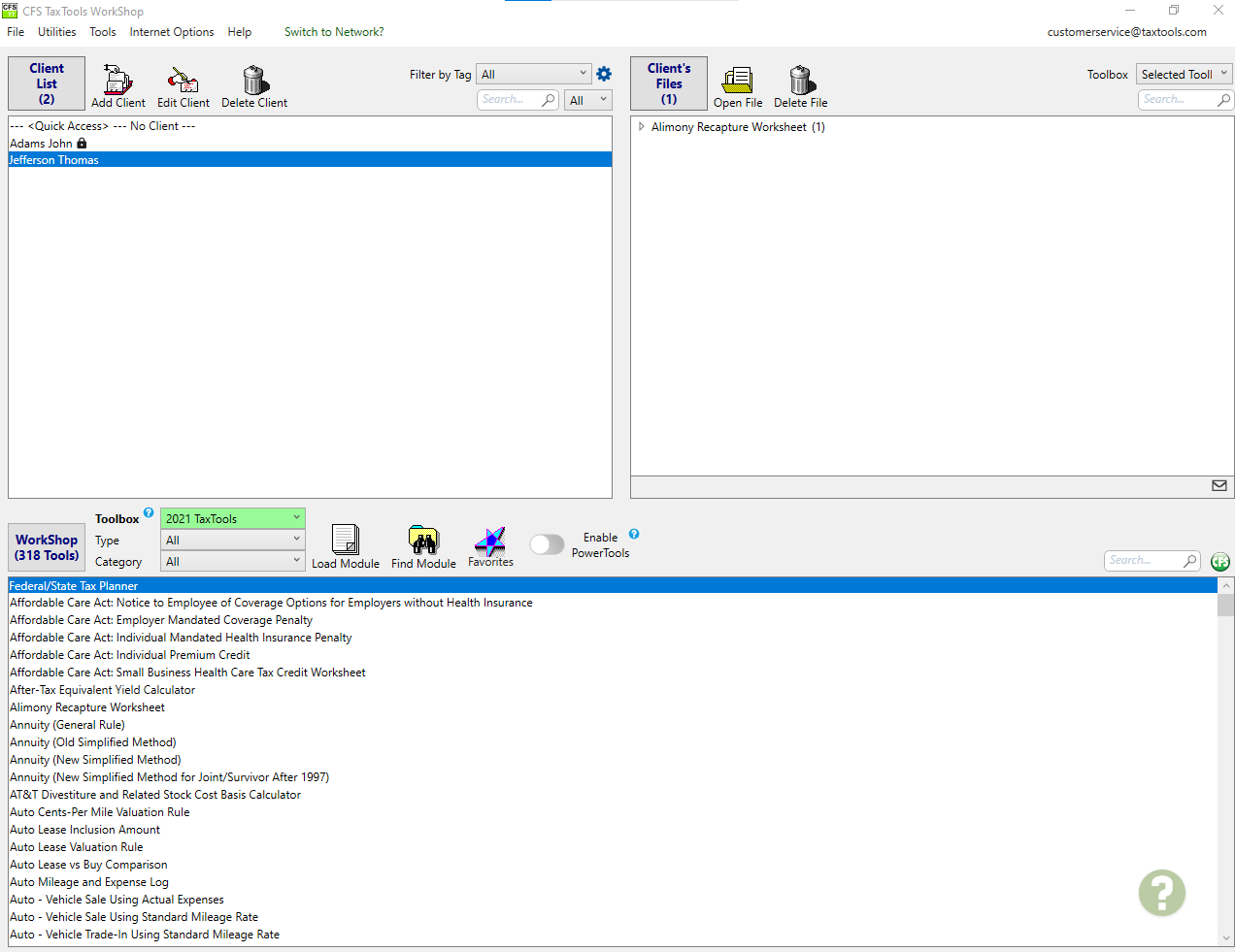 Client password protection (optional). Make the program ask for a password before opening a client. Passwords are created by you and can be set for some, all, or none of your clients. Customize how often it should ask for a password.
Import clients from other CFS programs. Save typing by bringing your clients over from other CFS programs.
New Knowledge Base. Access our upgraded knowledge base and search for help articles.
Search capability. New search boxes are added for clients, modules, and saved client files.
Tags. Organize your client list with customizable tags.
Mark clients as inactive. Clear clutter without losing data by setting clients as inactive, so they can be shown or hidden when you want.
Lacerte import. The Lacerte import feature is back after being gone for several years. Single-user only for Lacerte '20.
Context menu. Right clicking on a client, a client's file, or a module quickly brings up common actions to save you time.
Easy activation. No more license codes, just provide your Customer ID and email address.
Always up-to-date. The program automatically keeps itself up-to-date without the need for routine update installations. This enables us to get the latest tax law changes into TaxTools WorkShop faster than our other programs.
FAQ
How much does TaxTools WorkShop cost?
Nothing! TaxTools WorkShop is a free program that supports unlimited clients and gives you access to the CFS products you are already licensed for, all in one place. It will know what products you have and will give you full access to all your forms, worksheets, calculators, and flowcharts (and will let you demo any you aren't licensed for).
How is TaxTools WorkShop different than TaxTools, your flagship program?
TaxTools is our most recognizable standalone program and contains over 300 tax utility modules. TaxTools WorkShop can launch any of TaxTools' modules, as well as modules from other CFS products. Think of it like a super TaxTools that can launch our other products' modules.
Are the standalone versions of TaxTools and other CFS programs changing?
No. TaxTools WorkShop has no effect on the other CFS programs. They will continue to be updated and function as they always have. We made it a goal not to change anything for people who are happy with the standalone programs they've always purchased.
Are my clients saved on my computer or in the cloud?
As with our other programs, your clients stay on your computer and are not saved or transmitted anywhere else.
Since TaxTools WorkShop launches the same modules as the regular, standalone 2021 programs, do I need to uninstall those 2021 programs to use TaxTools WorkShop?
No, those programs are independent of TaxTools WorkShop. They perform the same function, but it is up to you which program you'd rather work in.
Will installing TaxTools WorkShop overwrite my existing CFS programs or files?
No, TaxTools WorkShop has no effect on other CFS programs.
Does TaxTools WorkShop look any different than your other programs?
We went to great lengths to keep the interface of TaxTools WorkShop the same as our other programs, except where some handy new features were added, like new search boxes and password protection capabilities and the like. There is zero difference between the modules opened by TaxTools WorkShop and modules opened by the standalone programs. They are the same. That being said, we might later improve the interface on some modules but you will have control over whether or not to see those changes.
Can I switch back and forth between TaxTools WorkShop and the standalone versions of the products it launches?
Importing clients from the standalone programs into TaxTools WorkShop is easily accomplished via the Utilities menu. Going the other way requires that the clients be exported as a CSV file and then imported into the standalone program. That's not quite as straightforward as importing them into TaxTools WorkShop, but still possible. Saved modules will not import between the programs. We recommend importing your clients into TaxTools WorkShop to see if you like your work unified into one program. None of the programs are designed to be switched back and forth between TaxTools WorkShop.
Can I install TaxTools WorkShop on a network?
Yes. See our Installation Instructions.
Comparison with other CFS software
Click the image to enlarge it.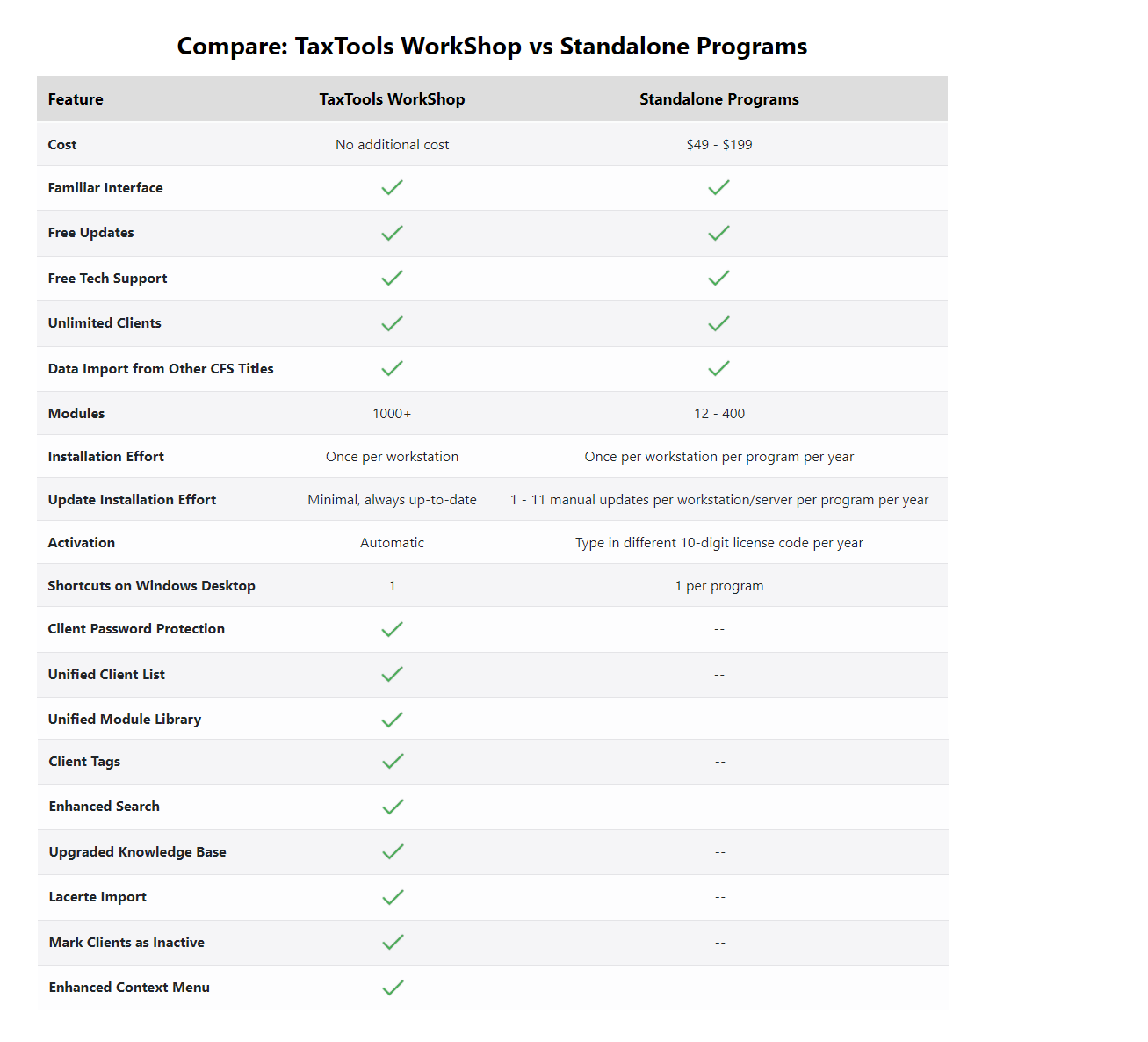 System Requirements
Windows 10, 11, or 7
An internet connection is required for initial activation. The program can subsequently run without an internet connection for up to 30 consecutive days.
Support