Creating a Business Services Online (BSO) Account
Creating a Business Services Online (BSO) Account
Updated by John Logue
A BSO account is required to e-file W-2. SSA's Business Services online added extra security starting in 2023, which also requires existing users to re-authenticate.
Allow at least 2 weeks to complete the registration process, which takes longer than previous years, and well ahead of the January filing deadline.
BSO is unable to mail an activation code to new users registering without an EIN. This includes Self-Employed and Household employers.
Therefore, you are unable to file electronically. If you do not have an EIN, you will need to mail paper W-2/W-3 and W-2c/W-3c to Wilkes-Barre Direct Operations Center. Visit the 
Paper Forms W-2 & Instructions 
page for address information.
Go to the BSO website.
Under Employers, click Create account.
This is the appropriate place to start your Registration for BSO for E-filing W-2's, whether you are an:

Employer,
Employee working on behalf of your Employer,
Sole Proprietor or Partnership (with or without employees),
Volunteer (of an organization with an FEIN),
INCLUDING, a Practitioner filing on behalf of your Clients- It is under, "Employers" where you begin to Create your BSO account, and this is also where later you will Log in to your account:

Click Sign in with ID.me or LOGIN.GOV and follow the prompts to obtain a User ID. See BSO User ID and Accuwage Online.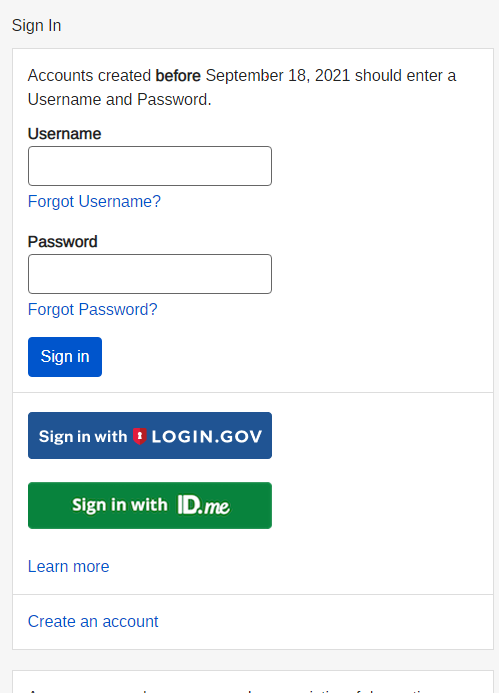 Before you can create a BSO Account you must verify your identity with id.me or LOGIN.GOV. If you run into issues with authentication try clearing cookies from your web browser.
If you are an employee (or volunteer), or a self-employed person (whether a Sole Proprietor or General Partnership), and if you are not prompted to enter your Employer information, click on "Add/Edit Employer Information" on the left hand menu:
Fill in your "Employer information", reading the instructions carefully.
If you are an Employee, this will be your Employer's information including their FEIN, their business NAME (as associated with their FEIN number), address and any other information requested.
If you are a Practitioner you will fill in only YOUR Business information (not that of your clients).
If you are a Sole Proprietor, enter your name as associated with your FEIN (usually your individual name).
You must also

Request access to the SSA Services Suite for Employers

to complete the BSO account set-up. Make sure that you complete your request for the Service Suite for Employers (as well as filling in your company information) as part of your registration process.  (Sometimes the order of entries prompted by BSO can vary.) 
Also see BSO Service - How do I know if I need to (re-) request, "SSA's Services Suite for Employers"?
BSO may have to complete your authentication process before they allow you to request services.  If you have any problems call BSO at 800-772-6270.  If you aren't able to request services immediately, be sure to GO BACK to log in and request them (under "Request New Services" on BSO's lefthand menu). 

NOTE that part of the BSO authentication process includes MAILING the company an activation code, which then needs to be entered on the BSO website under the Registrant's Login.
You must change your password at least every 90 days to keep it from expiring.
Problems? Call 800-772-6270 Monday through Friday, 7:00 a.m. to 7:00 p.m., Eastern Time.
FAQ
Can I sign in with my personal my Social Security account username and password? Yes. If you have created a my Social Security account prior to September 18, 2021, you can use the username and password to sign in once redirected from the employer webpage. The username and password will be associated with your BSO User ID.
Why am I being asked additional identity proofing questions after I create my account? Social Security uses different levels of security depending on the sensitivity of the information being accessed. These additional levels of security are to ensure your information is protected.
Whom should I call if I have problems with registration? Call 1-800-772-6270 Monday through Friday, 7:00 a.m. to 7:00 p.m., Eastern Time
Additional Information