Creating an IRS FIRE account
Creating an IRS FIRE account
Updated by Eric
You must obtain a FIRE
TCC
before you can establish a FIRE Account to transmit files through the FIRE Systems. Each user should create their individual FIRE Account and login credentials. Multiple FIRE Accounts can be created under one FIRE TCC. Refer to the FIRE webpage for additional information on account creation.
To acquire a FIRE TCC, see Applying for a FIRE Transmittal Control Code (TCC).
Go to the FIRE IRS login page.
Click Create New Account.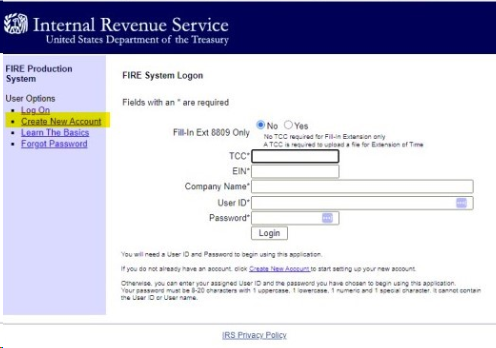 Input FIRE TCC, EIN (No Dashes) and Company Name
• Create User ID
• Create and verify password and click "Create"
You must enter your FIRE TCC, EIN and Business Name exactly as it currently appears on your IR Application for FIRE TCC. Once you log in, your information will fill in automatically when you submit files.
If the FIRE System doesn't seem to be accepting your TCC and Business information, they may have removed punctuation when processing your Company Name from the IR application.  Try again removing punctuation from your business name.  If you still have trouble, call FIRE at: 866-455-7438.
Passwords must be changed every 90 days; the previous 24 passwords cannot be used. Passwords cannot contain the User ID or User Name.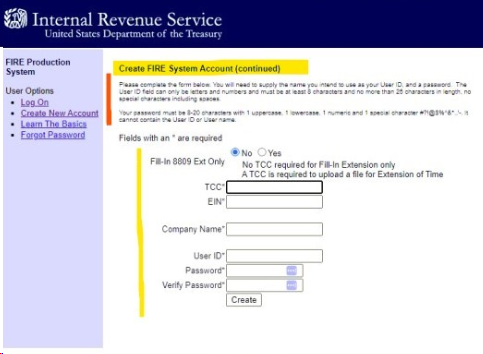 Your User ID is displayed after your account is created

Create and verify the 10-digit self-assigned PIN and click "Submit" (phone number is a good 10 digit PIN)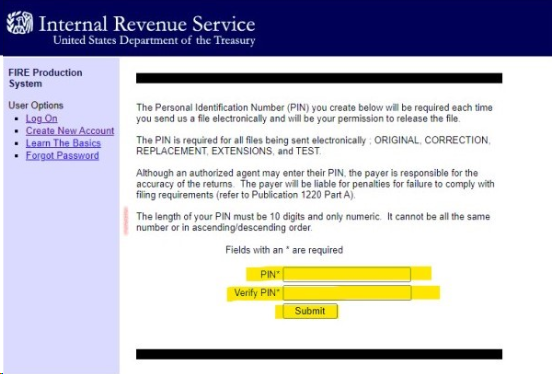 Create and verify the Secret Phrase along with validation fields and click "Create"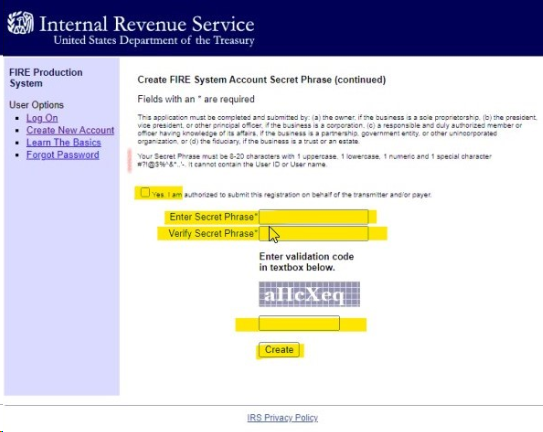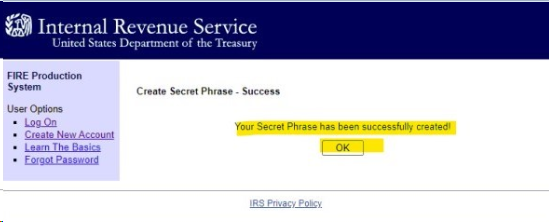 You will be logged out automatically and will need to log back in to confirm User Account was successfully created.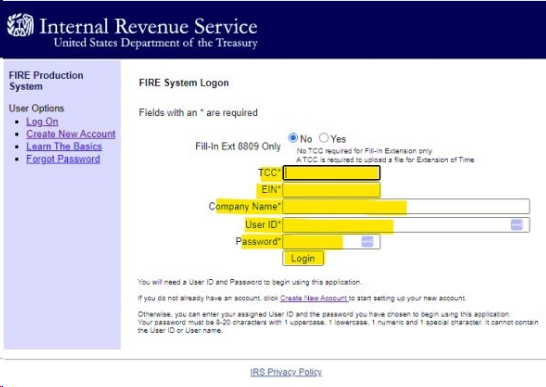 Click Continue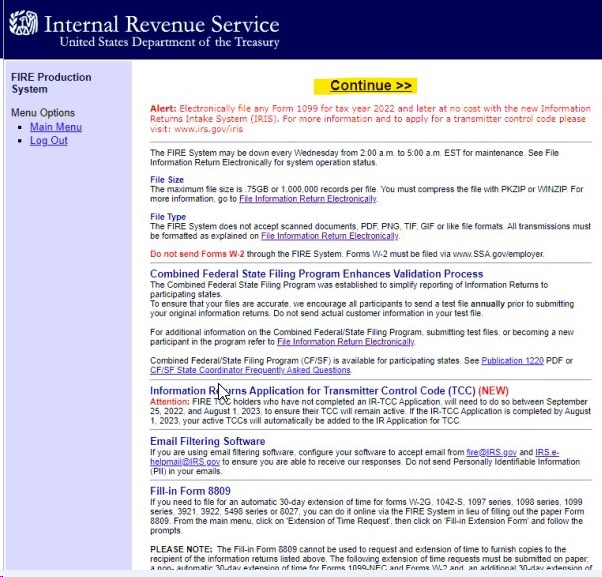 Click on Send Information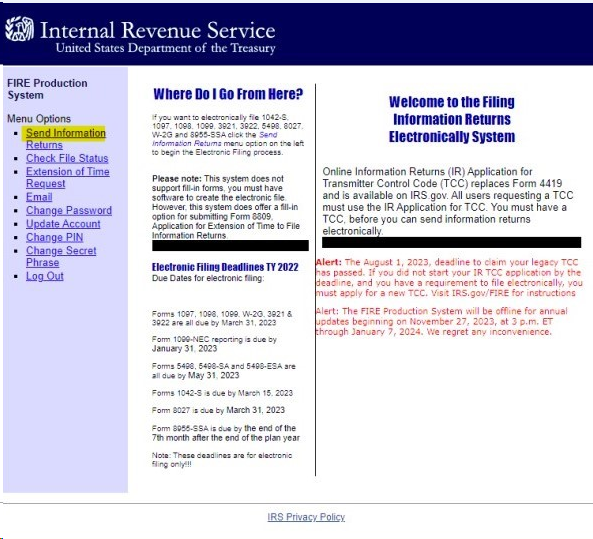 Enter your TCC and TIN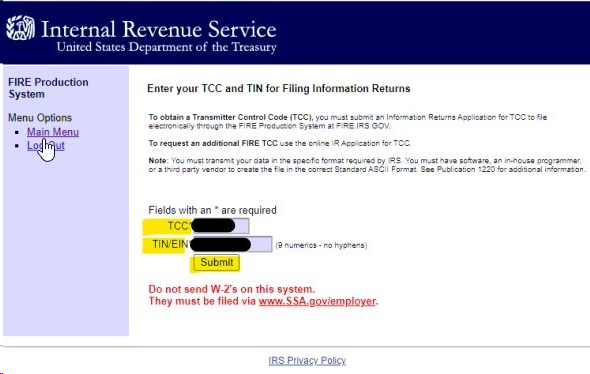 Verify your Filing Information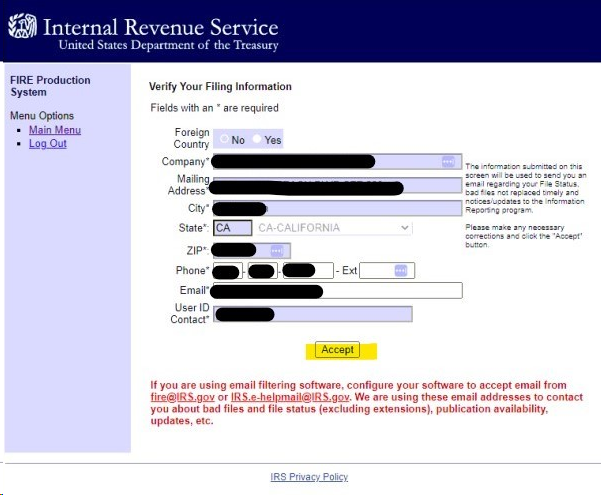 Your account is setup and ready to go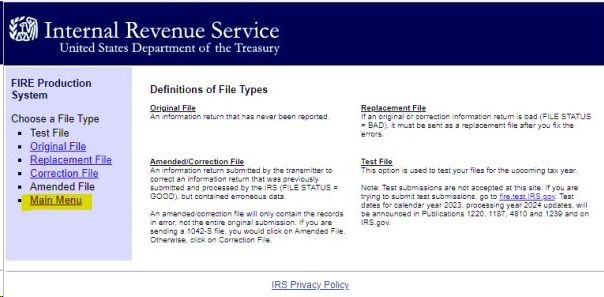 Logout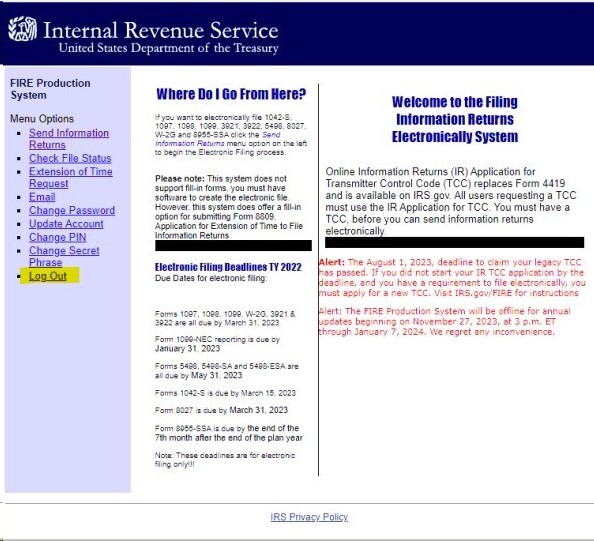 If you have any questions, call the IRS FIRE System phone number: (866) 455-7438.