Error 105: The transmission was unsuccessful
Error 105: The transmission was unsuccessful
Updated by Eric
Problem
When e-filing a return in CA Sales Tax Preparer, the user receives Error Code 105: The transmission was unsuccessful.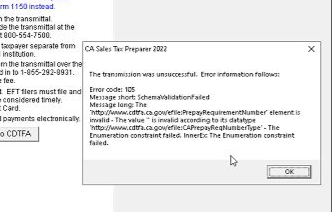 Cause
The validation routine reports the prepayment value is not either 1 or 2.
Solution
Try to submit the file again.
If the error persists, delete the file and try again.