Finding the TCC online - Do I have a FIRE IR TCC?
Finding the TCC online - Do I have a FIRE IR TCC?
Updated by Suzette Ciplickas
Rather than waiting for the approval letter to arrive, the FIRE TCC may be viewed online.
Log into your irs.gov e-services account.

You must be signed up for ID.me in order to view your IR Application.

On the "Select your Organization" webpage, select "Individual".
Note that before selecting "Individual", you may see a new "Organization Role" with "IR TCC" (Application Type) below.  If so, Selecting that (instead of "Individual") is appropriate; either selection will bring you to the "External Services Authorization Management" webpage.
Click on the "Eyeball" icon next to IR TCC application, to see its status: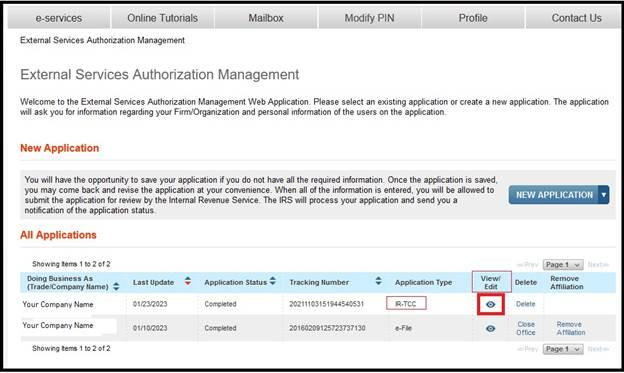 If you do not see "IR TCC" as an option, you may not have submitted your application successfully.  Call the FIRE System for help: 866-455-7438
 Note that your IR application webpage will reflect the application status:

If it shows "Submitted Pending Review" that means you will not yet be able to view TCC number
If your application was successfully processed by the IRS, you will find your TCC number further down the webpage.  Scroll down until you see TCC Information section:
If your TCC is present and status active, you are ready to REGISTER on the FIRE website.  However:
1)      Be sure to read below about STATE E-filing requirements and
2)      Be aware that the FIRE website CLOSES down towards the end of November annually and does not REOPEN until the first or second week of January.  In 2023 it closes November 26th or 27th, and reopens about January 7th, 2024.  If it is closed, be sure to REGISTER there as soon as possible in January!
Here's the link to our article about registering for FIRE System: Creating an IRS FIRE account 
Your "CF/SF Approved" column stands for "Combined Federal & State Filing Program" and should say "No".  Payroll System is NOT part of the CF/SF program. 

If your state requires 1099 e-filing, you will ALSO have to Register with your State and upload your 1099's to the appropriate website.
Click here for State 1099 E-filing information: 1099 E-Filing: States
Click here for California 1099 E-filing information & instructions on how to Register for the SWIFT system: 1099 E-Filing: California