All sales/property tax products can be found in the Sales and Property Tax toolbox
All sales/property tax products can be found in the Sales and Property Tax toolbox
Updated by Eric
CFS offers four sales/property tax products:
CA Sales Tax Preparer
CA 571 Preparer
NY Sales Tax Preparer
MD Personal Property
Previously, these products were separately listed in the Toolbox Selector in TaxTools WorkShop.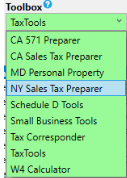 Now, to save space for other Toolboxes, they are combined in Sales and Property Tax: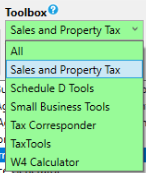 When Sales and Property Tax is selected, a second pulldown menu appears where the desired product can be selected:

The program will remember your selection.
The four sales/property tax products are still licensed separately.