When will Form 941 be released?
When will Form 941 be released?
Updated by Michael Toney
Form 941 – Employer's Quarterly Federal Tax Return can only be released after the IRS publishes the final version of that form. The form must be:
added to CFS Payroll System.
tested prior to release.
Typically, we add the 1st quarter Form 941 to CFS Payroll System and update the program sometime each March. We are dependent upon the IRS. It has been as early as late February but also could be as late as the end of March.
Similarly, expect updates for 2nd (if needed), 3rd (if needed) and 4th quarter during the several weeks prior to the respective filing deadline for a given quarter.
Install the latest version of Payroll System. See How do I download and install an update from within the program?
If the form is still not available, it is not ready yet. To see when it was available in prior years:

Go to the Payroll System Updates page.
Click Update History for the year of the Payroll System program you want to see and find the date of the update.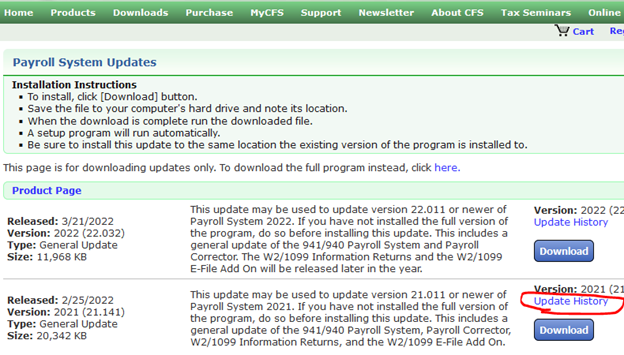 You can also search via Ctrl-F to find what you're looking for. For example, if you were viewing last year's Payroll System Updates page, you can press Ctrl-F and type 941. The search feature will find hits for 941 on that page.