After installation the desktop shortcut icon is wrong
After installation the desktop shortcut icon is wrong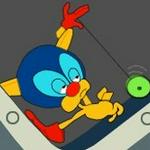 Updated by Christopher H
Problem
After installation the desktop shortcut icon doesn't look right.

How can I get the correct icon?
Solution
Follow these steps:
Single-click the Windows desktop shortcut in question to highlight it
Use the keyboard shortcut [ SHIFT + F10 ]
Select Properties from the pop-up menu.

A Properties window is displayed. Select the Shortcut tab, then click Change Icon.

A Change Icon window is displayed. Select the correct icon, then click OK.

If an Access Denied window is displayed, click Continue.

Back on the Properties window click Apply (if enabled) then OK.

The icon should now be correct.