Applying for a Transmitter Control Code (TCC)
Applying for a Transmitter Control Code (TCC)
Updated by Eric
Beginning September 2022, IRS will transition filers who received their FIRE Transmitter Control Codes(TCC) prior to September 26, 2021, to the new Information Returns Application for Transmitter Control Code (IR-TCC). As part of this transition, Form 4419, Revise Existing TCC for FIRE, will be phased out effective August 1, 2022. Your TCC will remain valid for use until August 1, 2023, after that date, any FIRE TCC that does not have a completed IR-TCC Application will be dropped and will not be available for e-file.
Important Information
A Transmitter Control Code (TCC) is required to e-file 1099's (and certain other information returns) to the IRS. You must electronically apply for a TCC through the IR Application.
Be sure to apply for your TCC well in advance of 1099 filing due dates. The IRS advises to allow at least 45 days for them to process your IR Application. Sometimes the process is quicker but this cannot be guaranteed.
If you file 1099's for multiple payers (i.e., your clients), the IRS encourages you to submit one IR application and to use the assigned TCC for all payers. The purpose of the TCC is to identify the transmitter of the file.
You will apply under the same name that is associated with your EIN (Form SS-4). (Hence for an accounting firm, there might be only one TCC). However, on your IR application, you add "Responsible Officials" (which will each sign the application with their own 5 digit PIN). Also on the IR application, you add "Contacts" (who can each create a FIRE account on the IRS FIRE System website to E-file Information Returns (e.g., 1099's) using their firm's TCC, EIN and Legal Business Name. (Note that sharing this information with your Contacts is optional.)
Often, a TCC applicant will already have a (Tax Pro) IRS E-Services account with "Secure Access" authentication already set up (upon sign-in, a 6-digit security code is texted to your cell phone). If you do not already have an IRS account with Secure Access, you will have to CREATE an account with "ID.me" before acquiring a TCC (see Step 2 below). Refer to this IRS instructional webpage: https://www.irs.gov/tax-professionals/fire-system-update-improving-the-process-and-security-for-information-return-ir-application-for-transmitter-control-code-tcc.
The following IRS Tutorial webpage (for e-File Applications) will also provide practical information.  Although the Tutorial is not specific to the IR application, many of the IRS rules, application procedure, description of organization roles (e.g.,"Responsible Officials"), etc. are similar: https://la2.www4.irs.gov/PeopleBooks/CRMPROD/Training/esam/eFile/index.html#creating-your-app
If you have any questions, call the IRS FIRE System phone number at (866) 455-7438. Click
here
for additional information.
Acquiring a TCC
Go to IR Application for TCC. Click Access IR Application for TCC.

Login either with your irs.gov E-Services User Name and Password or ID.me User email and Password.
Note that the "Create a new account" option is for a new ID.me account—not a new IR application.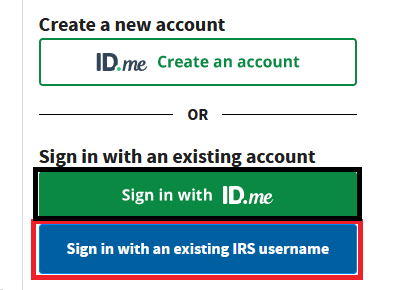 Note that while you can still Login ("Sign in") with your existing IRS E-Services username, the IRS is encouraging (and may later require) Login with the new "ID.me" User email and Password. If you choose to Create a new "ID.me" account at this time, be aware that it can sometimes be a lengthy process.
Note that technical difficulties are not uncommon when creating an ID.me account. If you have phone camara difficulties under "Self-Service," choosing Video Chat Agent" is an option. Help links can also be found at the
ID.me Help Center
.
If you choose to Sign in with your existing IRS username, enter your IRS E-Services User Name next: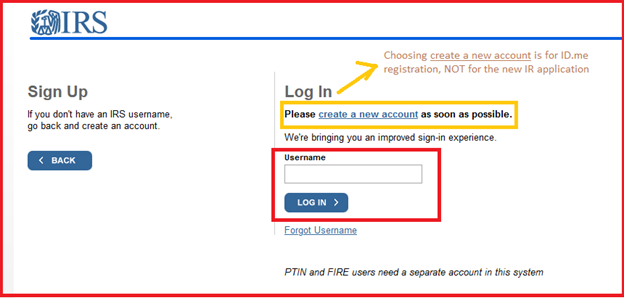 On the next screens, enter your IRS E-Services Password, the Security Code required, and continue past your login history.
If you signed in with your "ID.me" User Email and Password, you will also enter the Security Code required, and then continue past your login history.
Select Individual.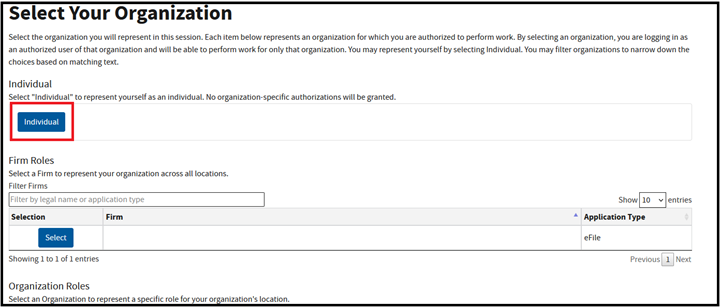 The External Services Authorization Management webpage will open.
Click New Application and then IR Application for TCC.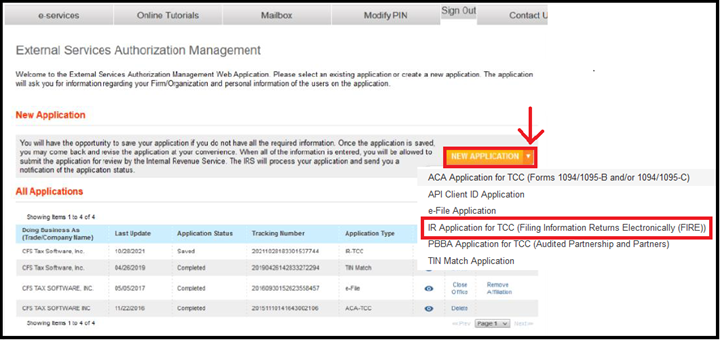 Fill out the form and click Continue.
Important: Take note of the EXACT way you are entering your Firm/Organization Legal Name. It must be the same as associated with your EIN, and can ONLY include the following punctuation/symbols: ampersand (&), period(s), dash(-), and comma(s). Some applicants omit periods and commas associated with their EIN (they are not required on the IR application). However you enter your Firm/Organization Legal Name on the IR application must also be entered the exact same way when later registering and signing on to the IRS FIRE System (unless the IRS changes punctuation when assigning the TCC; in that case, use the legal business name as stated on your IRS TCC assignment letter).  
Select the types of form(s) you will be submitting (note that 1099's are included in the first selection). Click ADD to select whether you are a Transmitter or an Issuer. Then click Continue.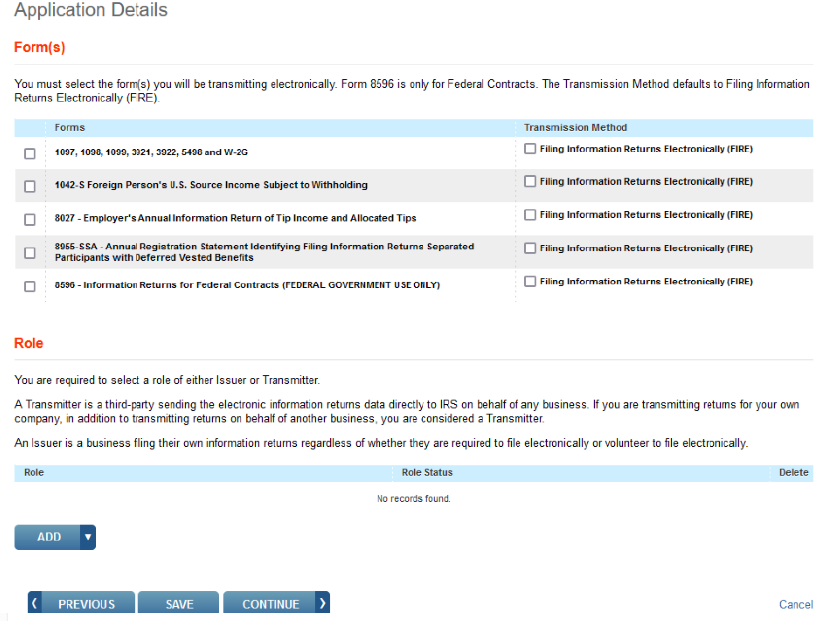 As you continue through Application Screens, you will add information regarding your "Responsible Officials" and "Contacts". If you are a Sole Proprietor/Individual, only ONE Responsible Official and Contact are essential, whereas at least two are required for other Business Entities.
Add any application comments and click Continue.

Review the Application Summary and click Continue if it looks right.
Check I accept the terms of agreement, input your PIN, and click Submit.
IR Application is subject to review before the approval to transmit electronically is granted and may require additional documentation at the request of the Internal Revenue Service (IRS).
When your IR Application for TCC is approved and processed, a five-character alphanumeric TCC is assigned to your business. An approval letter will be sent by U.S. Postal Service to the address listed when the IR Application for TCC was submitted, informing you of your TCC. Allow 45 days for processing, although if no additional information is needed by the IRS, it may be much faster. If you do not receive a TCC within 45 days, contact the IRS at (866) 455-7438.

Your TCC will also be available to view online sooner than receiving the by mail approval letter. After logging in to your irs.gov E-Services account, on the Select Organization screen you may see an additional line selection: "(IR TCC) Your Business Name". If not, select Individual. Then click on the Eyeball Icon to view your application, which will either contain your new TCC 5 digit number, or should show as Submitted Pending Review.
Unlike 941 e-filing, a test submission is not required by the FIRE System before e-filing 1099's.
FIRE System Phone Support
FIRE System Phone Support is called their "TSO line".
Listen to all options before making your selection.
Hours: Monday through Friday, 8:30A to 5:30P ET.
866-455-7438 (toll-free) this is the regular fire number
304-263-8700 (International) (Not toll-free)
304-579-4827 for Telecommunications Device for the Deaf (TDD) (Not toll-free)